Cobblegate Square Apartments
19.5 Foot (5.9 Meter) Tall Gravity Wall Provides Erosion Control for Apartment Complex
Location: Moraine, OH
Year Built: 2012
Goal: Residential Erosion Control
Project Duration: 12 days
Project Magnitude: 5100 SF 19.5 feet tall
Face: Cobblestone Gravity Wall
Featured Products
Gravity Retaining Wall Blocks - Massive, one-ton Redi-Rock gravity blocks rely on the sheer mass of each block to hold back the earth.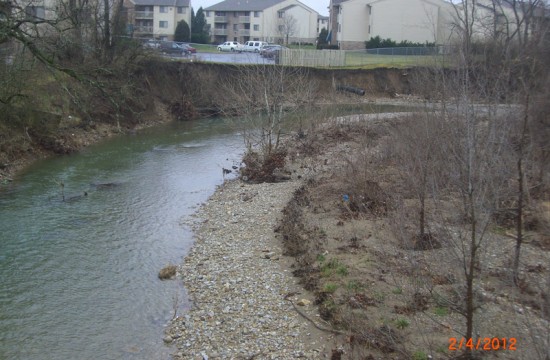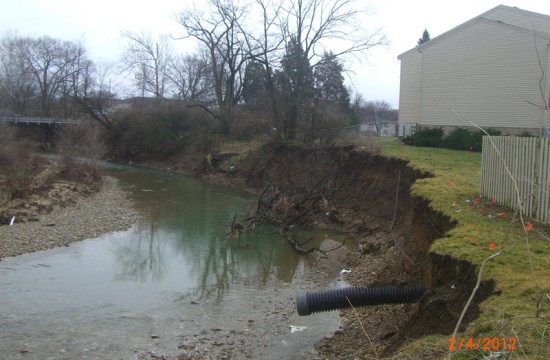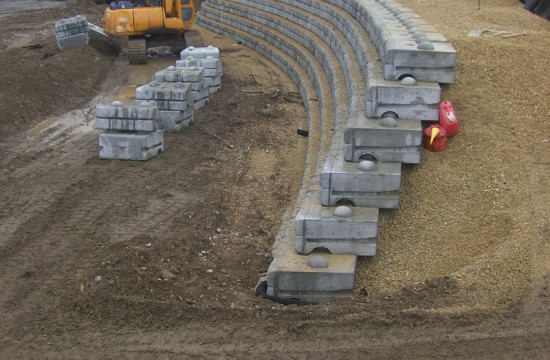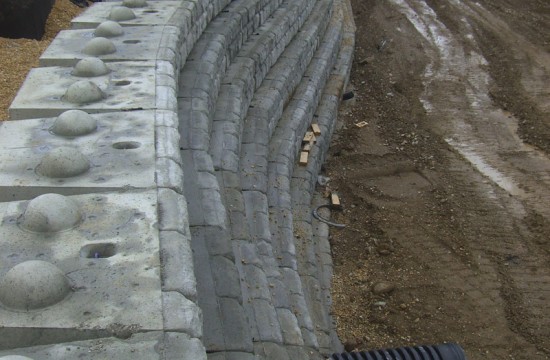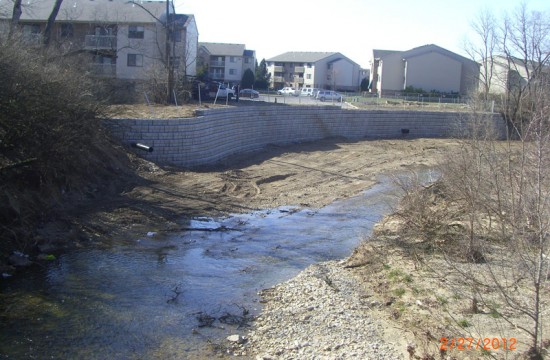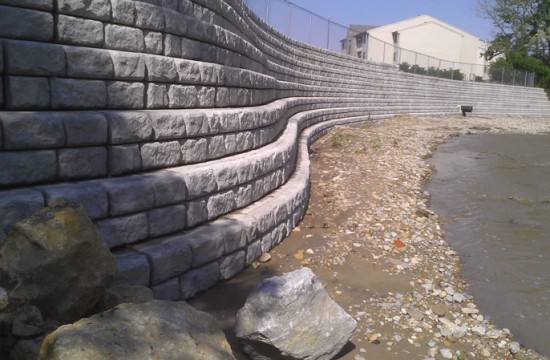 The Challenge
"When we originally constructed the apartments here, the creek was about 20 feet (6.1 meters) further away," explained Randy Humbert, President of the Residential Construction Division of Miller Valentine Group which owns this Dayton area apartment complex, Stonecreek Apartments.
"Over the past few years, the road was widened and some land was cleared up river, which caused the water volume in storm events to pick up," Humbert said. "Sediment and realignment of the stream upstream put us in the crosshairs. Anytime there was a heavy rain, it just ate away at the stream bank-undercutting and caving it in and washing it away."
"Residents had been losing green space over the last few years, but when the creek intrusion started affecting the parking lot and threatening the building foundations something had to be done," continued Jeff Barrow, PE and President of Civil Solutions Associates of Cincinnati, Ohio.
Just days before Christmas in 2011, the 12 units in the building closest to Holes Creek needed to be evacuated by order of the City of Moraine. Residents were able to move into other units on site, but finding a fast solution that would get residents back into their homes as soon as possible was a major priority. Holes Creek is under the jurisdiction of the US Army Corps of Engineers, so this project required USACE permits and approvals.
The Solution
The owners and engineers working on the project chose Redi-Rock for several reasons:
Gravity design: Since the stream had eroded to within 8 feet (2.4 meters) of the apartment building's foundation, developers needed a way to stabilize the stream bank without encroaching on the building's foundation or the adjacent parking lot. "We needed a block design that would allow us to create a 16 feet (4.9 meters) tall unreinforced slope so we used a wall design and restored the slope to pre-flood conditions," Barrow said.The wall design included Redi-Rock 41 inch (1030 millimeter) gravity blocks, which weigh as much as a Budweiser Clydesdale, and Redi-Rock 9 inch (230 millimeter) setback blocks which increase the batter of a wall, allowing a higher gravity wall to be built. At the tallest point, the wall actually stands 19.5 feet (5.9 meters) tall, but the bottom 3-3.5 feet (.9 – 1.1 meters) are buried.


Competitive pricing: "We looked at several other possibilities like a gabion basket wall or a steel pylon curtain wall, or rip rap. But when we ran the numbers, Redi-Rock was as economical as any of those other systems and quite frankly was easier to install," Humbert said.In addition to competitive pricing, product availability played a major role in getting this project completed so quickly. Upon award, Redi-Rock Structures went into immediate production for the 9 inch (230 millimeter) setback blocks. In order to achieve the intended result, the production team led by Duane Connor worked nearly around the clock to complete the order in time.


Fast installation: Redi-Rock blocks stack like giant Lego blocks using a small crew and a piece of heavy machinery. "Obviously speed of installation was important because we were working against nature. If a rainfall came and the stream rose quickly, it could have destroyed all the work we'd done and set us back even further," Humbert said. Installation of 5,100 square feet (473.8 square meters) of Redi-Rock walls was completed in just 8 days to protect the building and parking lot. "Upon arrival to the site, Redi-Rock of Kentuckiana proved themselves once again with a flawless install. Stream reroute, dewatering, excavation, and installation was frankly remarkable. Their team understood the dynamics of the stream and the critical importance of the project," explained Tim Turton, Managing Member of Redi-Rock Structures of OKI.


Superior aesthetics: Humbert explained that even though creating an aesthetic wall wasn't a primary goal of the project, "It was clearly a bonus that it's a very nice looking wall." For this project, the Cobblestone texture

 

was chosen.
The Outcome
Barrow added: "The end product made a substantial impact and improved the overall image of the development. It turned the liability of an encroaching stream into a visual asset."