A revolutionary universal EV fitting system for EV charger points.
EV Blocks is a precast concrete electric vehicle (EV) charging point foundation that features a universal adaptor plate and side openings for conduit installation.
Our universal adaptor plate allows the below-ground infrastructure to be installed before the EV charger has been specified or selected, futureproofing your project.
Since the majority of chargers installed are Level 2, the Standard EV Block is an ideal solution that pairs with nearly all chargers on the market.
EV Blocks offer greater convenience than any other product on the market and save contractors and owners time, money, and stress all while meeting the highest quality standards, and providing a uniform finish every time.
The Standard EV Block is 22" x 22" and 24" tall. The size and mass of the Standard EV Block make it ideal for nearly all Level 2 charger installations.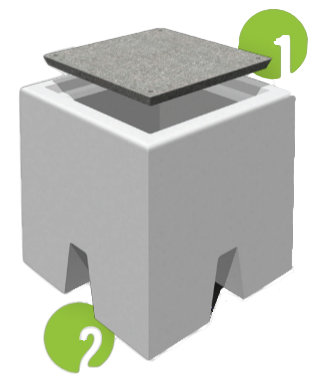 Can accommodate nearly all Level 2 chargers
Can be installed before chargers are chosen or specified
Blocks can be installed for future expansion – futureproofing your site
Allows for easy maintenance or future charger changeout
ADA slip resistant compliant and load rated when used in a passive installation
Four side openings to accommodate conduit from any direction
Allows for conduit ducting up to 6" diameter
Can be used as a cable pulling access point